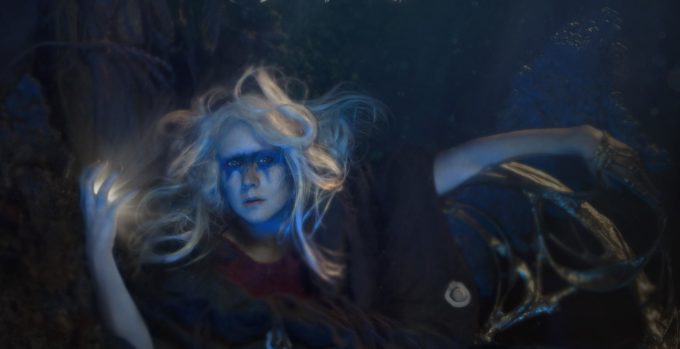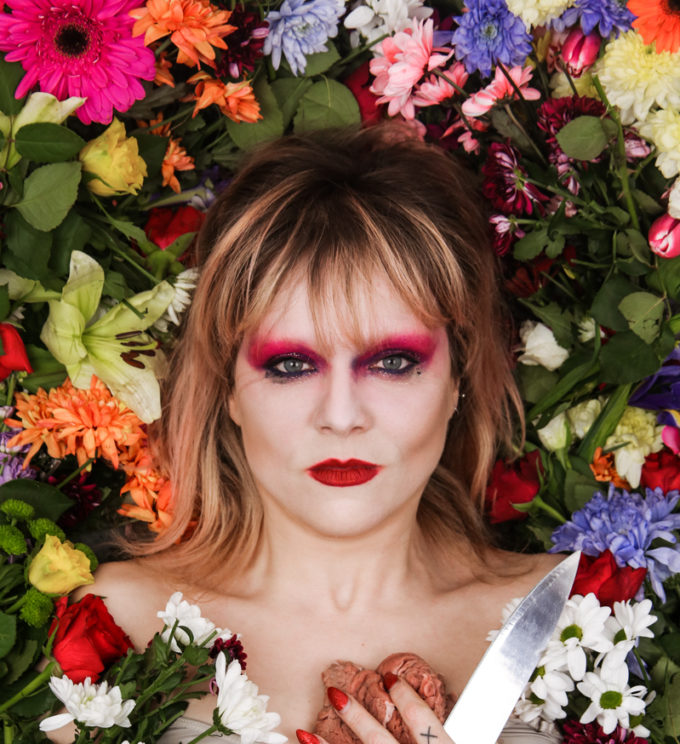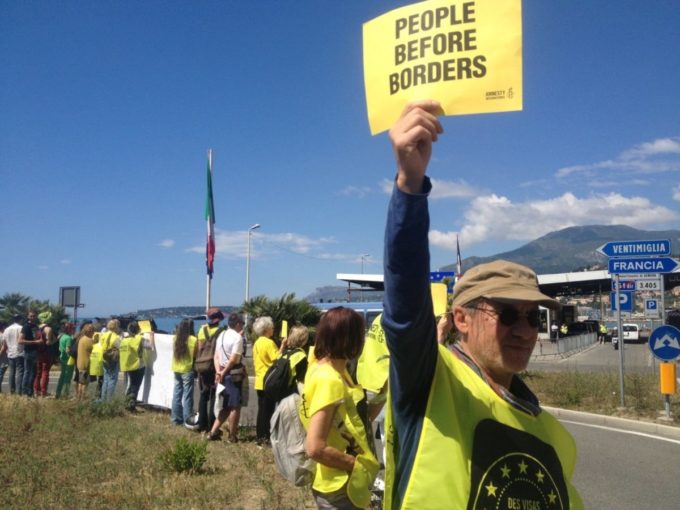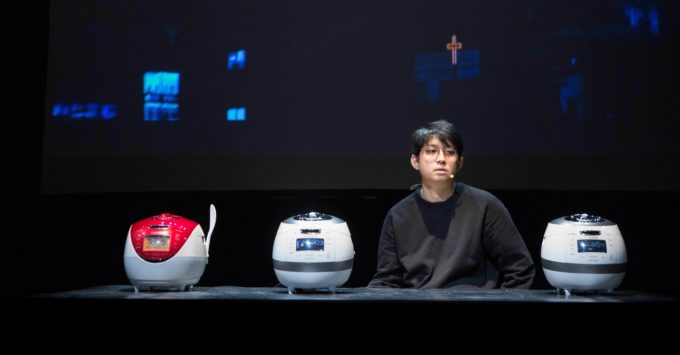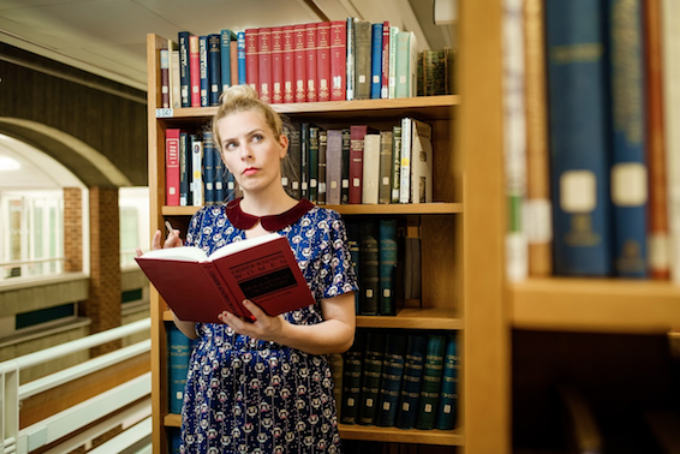 Resonating with the current moment in UK domestic politics, throughout the season multiple artworks deal with the notion of "nation" from different perspectives and consider how political and economic decisions impact people's personal lives and sense of self.

Jaha Koo brings Cuckoo to Brighton on 12 February. This bittersweet and humorous performance (featuring three modified Cuckoo-brand rice cookers that sing and talk) tells the story of the 1998 Asian Financial Crisis, and its aftermath in South Korea. Giving voice to the younger generation who suffered the consequences of this recession (and the structural reforms to the economy), Jaha Koo creates a touching, personal and smart analysis of the society in which he grew up.
Meanwhile, Ontroerend Goed, Theatre Royal Plymouth, Richard Jordan Productions and Vooruit Kunstcentrum present £¥€$(LIES)(13-15 March), in a casino-esque set and environment, this interactive theatrical experience which invites to you get under the skin of the super rich, the one per cent who pull the strings at the heart of the global economic system. Trading as a fictional country, audiences can gamble, in fictional trading markets.
Further performances from international theatre makers this season include China Plate & Staatstheatre Mainz's - Status, written by Chris Thorpe and directed by Rachel Chavkin. This new show from a multi Fringe First winning team tells the story of a globe spanning journey (from London to a rooftop bar of a Shanghai hotel, via the Mojave desert) taken by a man who doesn't want his nationality any more (9 April).
A further event - performingborders: LIVE (19 March) - also focuses on the exploration of personal, cultural and physical borders with UK-based artists and curators. The evening, programmed to coincide with One World Week at University of Sussex, will feature Nobel Peace Prize Photographer Sim Chi Yin in conversation with Annie Jael Kwan from Asia-Art-Activism.
An exciting new addition to ACCA's programme for Spring 2019 will be a new strand of weekly events for film and visual culture fans: ACCA's Cinema Club. Programmed by ACCA and Brighton based independent film curators, the first season of films will consider ideas around national identity and culture, land, borders, movement and migration. Films by names such as Ai Weiwei, M.I.A and Chantal Akerman will be nestled within a season of global cinematic gems. Cinema Club will also include wrap around talks, DJ sets, and a special afternoon Sunday brunch offer in ACCA's café bar. (Sundays from 17 February – 14 April).
ACCA are pleased to have co-commissioned (along with Battersea Arts Centre and Arts Centre Melbourne) the first new solo work by Bryony Kimmings for over a decade – I'm a Phoenix, Bitch. TheBrighton dates (3-7 May) are the first dates for this award-winning show outside London, following huge critical acclaim and five-star reviews. Combining personal stories with epic film, soundscapes and ethereal music, Bryony creates a powerful, dark and joyful work about motherhood, heartbreak and finding inner strength. I'm a Phoenix, Bitchwill be a headline show in the opening weekend of Brighton Fringe 2019, and marks the first time that Attenborough Centre for the Creative Arts has been a Brighton Fringe collaborator and host venue.
ACCA are also pleased to be working again this season in partnership with The Marlborough Theatre, bringing FK Alexander's VIOLENCE(7 March) to Sussex for the first time. VIOLENCEis a new performance art piece and a meditation on the cruelty of love, the weight of loneliness, the gift of desperation, the freedom of anxiety, the chrysalis of hopelessness, and the power of dreams. This performance is part of The Marlborough's mini-season called Radical Softness, exploring notions of care, healing and openness as forms of strength.
Two contemporary music gigs take place this Spring, organised by ACCA associate music programmer Laura Ducceschi. Brighton-based artist Poppy Ackroyd will perform an intimate show on her Resolve (released by One Little Indian) album tour on 22 February. She will perform using ACCA's Steinway piano and the show will feature bespoke synchronised visuals by Tom Newell. Attenborough Centre for the Creative Arts will host the inaugural date on Apparat's first UK tour since 2013 in Brighton on 26 April.
Working with academics at the University of Sussex is always a key part of ACCA's programme. Opening ACCA's season is Viriditas: The Music and Life of Hildegard von Bingen, a festival curated by Dr Alice Eldridge (Music, Film & Media). The season of events explores contemporary resonances of the music and life of the 12thcentury abbess, through sound installations, talks and concerts (6-10 February). Later in the season, Andrew Duff (Music, Film & Media), presents Brighton Modular Festival, three days of music, synths and a chance to mingle with like-minded modular synth enthusiasts (19-21 July).
ACCA will also host two further events created with University of Sussex this season. The Exchange (21 February) is a space to debate provocative questions. A panel of guest speakers will discuss Can Veganism save the planet?with contributions from the audience. Organised by the University of Sussex alumni team Six Degrees at Sussex: will be an annual occasion where alumni who share a link will be in conversation in front of an audience. The first event (10 April) will feature comedians Sara Pascoe and Cariad Lloyd.
In May, and for the fourth year, ACCA will collaborate with Brighton Festival, to co-present a series of performances. Further details will be revealed on 13 February 2019 when the festival programme is announced. The University of Sussex is a major sponsor of Brighton Festival.
Attenborough Centre for the Creative Art's Creative Director, LauraMcDermott, said: "Our programme aims to create a space for critical reflection within a complex world. Especially in turbulent political times, we can learn by looking to the past, or by taking an international perspective. There are stories and experiences from all over the world represented in our programme of performances, films and talks."