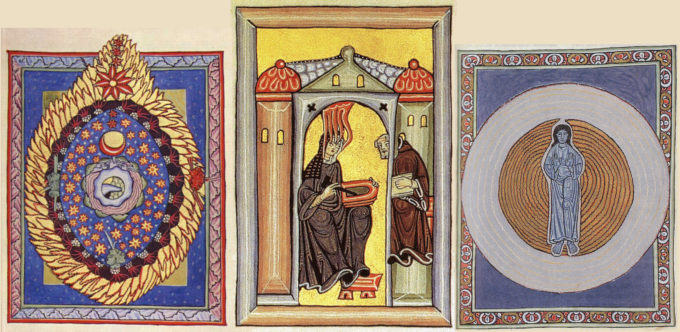 This February, we are hosting a music festival - Viriditas- exploring contemporary resonances of the music and life of 12th century abbess, composer, naturalist, healer and mystic, Hildegard von Bingen.
Who, you may ask?!
Hildegard, however, may be more familiar to you than you think and led an extraordinary and full life. She was also the first eco activist, one of the first female doctors and the earliest historical influence to ever appear on an Ibizan rave track.
Virditas festival curator, Dr Alice Eldridge (University of Sussex, Lecturer in Music and Music Technology) gives us her top ten 'Hildegard facts' to get you in the mood for Virditas (6-10 February).
1. Hildegard von Bingen was the first ever named composer. Although she had no musical training, she is considered the most prolific composer of the middle ages. Her hauntingly beautiful music is arguably the most enduring to come out of medieval Catholicism and Hildegard's music was first played in the UK to mark her octocentenary in 1979. The first recorded album A Feather on the Breath of God won a Grammy in 1983 and went on to sell more than half a million copies. German composer Klaus Zundel shared disco remixes of her soaring monodies with Ibizan ravers in the late 1990s.
2. Hildegard von Bingen lived until the age of 80 at a time when average life expectancy was 41.
3. At the tender age of three Hildegard first saw a heavenly light: a life was defined by rapturous multisensory visions. Contemporary analysis suggest she was a migraine sufferer, however.
4. She is celebrated as the founder of German naturalism and considered (one of) the first woman doctors and the first woman scientist. She compiled two substantial systematic works Physica - a study of botany, zoology, stones, metals and elements and Causae et Curae - a study of the causes and consequences of disease, with plant-based remedies.
5. Hildegard ran surgeries, offering advice on health in general, and sexual relations. Considering her lifetime's confinement in monastic institutions, she had an impressive grasp of the heterosexual sex life: "When a woman is making love with a man, a sense of heat in her brain, which brings forth with it sensual delight, communicates the taste of that delight during the act and summons forth the emission of the man's seed."
6. Metal fans love her compositions and many 21st century music journalists cite the 'origins of metal' as sitting within Hildegard's work.
7. From a contemporary perspective, Hildegard was the original ecological activist too: "The earth which sustains humanity must not be injured. It must not be destroyed!" ~ "Glance at the sun. See the moon and stars. Gaze at the beauty of the green earth. Now think."
8. Many of Hildegards's visions were prophetic. It seems she also foresaw the perils of fake news and manipulated social media: "We cannot live in a world that is not our own, in a world that is interpreted for us by others. An interpreted world is not a home. Part of the terror is to take back our own listening, to use our own voice, to see our own light."
9. Hildegard saw music as the ultimate connection with the divine. She tells us: "There is the music of Heaven in all things."
10. One of Hildegard's more mundane divine revelations was the design of a plumbing and draining system for her monastery.And this is fun… so one more….
11. "Cerevisiam Bibat! (drink beer for health)" Hildegard of Bingen.
With thanks to Fiona Maddocks and her latest book where these facts, and many more, about the fascinating life of Hildegard Von Bingen can be found. Learn more about Fiona's event at Viriditas in our venue here